Three teams Arsenal will hope to avoid on the road to the Champions League group stages
1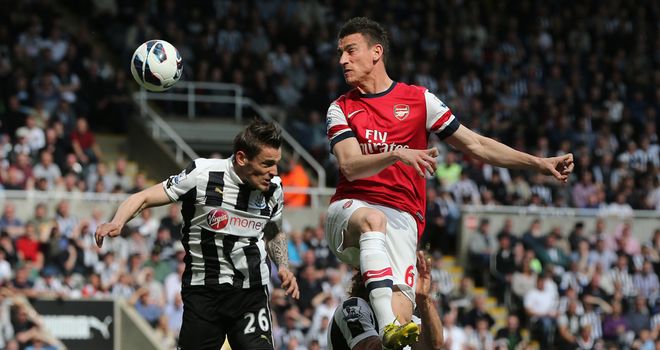 So after yesterdays scintillating drama we return to normality, as once again Arsenal secure the last Champions League spot ahead of chocking cockerels Sp*rs. Obviously this is a huge boost for the club both financially, and in terms of confidence heading into next season, but one last obstacle stands between the Gunners and a place in the Group stages of Europe's premier competition. That would be the small matter a early season qualifying round.
We have done it before so have relative experience (most recently Udinese in 2011), but if you assumed we would just breeze through without a thought you are gravely mistaken. The majority of the teams making up the early rounds could be considered cannon fodder but the big hitters enter the fray in the final qualifying round. I will be having a closer look at three teams which could potentially cause problems for Arsene Wenger's site as they battle it out to reach the group stages.
Zenit St. Petersburg:
This season Zenit featured in the Europa League and dismissed Liverpool in fine style, they may pose a potential threat to the Gunner's qualification hopes if they strengthen significantly in the summer. The Russian giants have made a splash recently capturing dangerous talents such as Axel Witsel (Benfica) and Hulk (Porto) and it is expected that they will be able to draw more top class talents due to their virtually endless wage budget. The long trip to Russia is another thing that could trouble the Gunners, and that, combined with the start of the Premier League season could work against Arsene and his troops. Another thing worth noting is that the Russian league typically starts before the Premier League so Zenit are likely to be sharper and fitter coming into the two legged tie.
Fenerbache:
The Turkish runner's up could also prove to be a stern test for the Gunner's resolve. Coming off the back of a reasonably poor season in which they came runners up in the SuperLig and the Super Kupa, exited the Champions league in the qualification rounds and were knocked out of the Europa League in the Semi finals, they will be keen to regain some Champions League pride next season. They have significant danger men in Moussa Sow and ex Liverpool forward Dirk Kuyt along with former Chelsea midfielder Raul Meireles. They have the ability to cause us problems if we do not kick into top gear immediately and a trip to Turkey is another thing that Wenger would rather avoid with the hostile crowds not being the most endearing factor of Turkish football.
PSV Eindhoven:
PSV finished second in the Eredivisie in the 2012/2013 season and since then former player Dick Advocaat has stepped down from his role as club manager. He has since been replaced by Phillip Cocu and the conclusion of this season also marks the end of inspirational captain Mark Van Bommel, who has left to give the younger players at PSV a chance. The current situation at PSV could see them enter the qualification stages somewhat unsettled under new management, which may play into the hands of Arsene Wenger as he pushes for a place in the Champions League group stages. They too have significant danger men in the form of Dries Mertens, Kevin Strootman and Jermain Lens, all of which are capable of exposing and loophole in a weak defence, and the fact that PSV have been the most potent attacking threat in the Eredivisie this season (+60 GD) further proves what an impact they can have.

Below is the current Pot A and Pot B as it stands, this is not final and any possible changes are listed alongside:
POT  A
Arsenal (England)   113.535 
Valencia (Spain) 102.605 Or Real Sociedad (Spain) N/A
Olympic Lyonnais (France) 95.800 Or St. Etienne(France) N/A
Schalke (Germany) 84.865 
AC Milan (Italy)  93.829 
POT  B
 Zenit St. Petersburg (Russia)  70.766
PSV Eindhoven (Netherlands)  64.945  
Metalist Kharkiv (Ukraine) 62.451
Fenerbahce (Turkey) 46.400 
PAOK (Greece) 28.800
Salzburg (Austria) 28.075 
Pacos de Ferreira (Portugal)  12.833
Nordsjaelland (Denmark) 12.640 
Grasshopper Zurich (Switzerland) 7.285  Or St. Gallen (Switzerland) N/A
Zulte Waregam (Belgium) N/A
Eventually we will be drawn against one of the teams from Pot B to play in the final qualification round, evidently there are other teams that could pose a potential threat to our qualification but I have chosen to select three of the top teams that we may come up against. I hope this has been beneficial in trying to give Arsenal fans an idea of what we might come up against during pre qualification. Remember, the draw is on August 9th so prepare yourself for the official announcement! To find out more about club Coefficient's check out the Uefa website here.
Please follow us on twitter @Arsenation and Like us on Facebook